About DUEN – National Danish Youth Ensemble
DUEN – National Danish Youth Ensemble has existed since 2012. It was founded by representatives of different parts of Danish musical life, in order to carry on the work with young string players from DRUEN. DRUEN was an ensemble which DR (Danish Broadcasting Corporation) decided to disband for economical reasons in 2011. Since then, DUEN has been financed with support from the Danish Arts Foundation and several private funds, as well as via a constantly growing turnover of its own. Morten Ryelund has for the entire time been DUEN's artistic director and conductor.
DUEN consists of young talented musicians between 17 and 27 years of age, who audition for becoming members of the ensemble for 2-year periods (read more about the auditions here). This secures constant renewal and gives access to as many as possible.
DUEN is known for a particular style of play and pedagogical approach, that Morten Ryelund has developed over more than 30 years of continuous work with string playing. 
A versatile ensemble
DUEN spans wide in terms of genres – from baroque, music from the classical period and romantic string serenades to newly composed music. In recent years DUEN has thus premiered pieces by Anders Koppel, Signe Lykke and Peteris Vasks, among others. DR's P2 regularly broadcasts DUEN's concerts, and the ensemble has starred in three TV-programs, where music of the 20th century was inserted in historical contexts.
DUEN is often collaborating with some of Denmark's most prominent soloists, such as Andreas Brantelid, Bjarke Mogensen, Janne Thomsen and Michala Petri, and has also performed with international stars like Håkan Hardenberger and Viktoria Mullova.
DUEN has also made a mark in popular music and inspired new audiences to listen to classical music by performing at Roskilde Festival, STRØM Festival and Distortion and by collaborating with artists such as Benjamin Koppel and DJ Noize.
Read about DUEN's upcoming and previous concerts here.
DUEN has since 2012 represented Denmark in EFNYO (European Federation of National Youth Orchestras). This membership allows the ensemble to form valuable networks on a European level. Since 2019, DUEN is part of EFNYO's MusXchange programme, that allows the exchange of musicians between the different European youth orchestras. DUEN has in the course of its existence been touring China, Ukraine, Russia, Romania and, most recently, Germany.
About DUEN Academy
When the corona-pandemic closed all public musical activities, DUEN turned towards itself and began to map and systematize its methods and insights. This soon became DUEN Academy (DA) – a project where 18 DUEN-musicians participated in 4 different groups with their own respective start dates from May to November 2020 and continuing into 2021. This work partly took place online and consisted of group sessions and workshops as well as individual coaching.
DUEN Academy was first presented publicly at the "Børn og unges vej i musikken" ("Children and youths way in music")-conference in Herning on the 1st of June 2021, organized by the Danish Arts Foundation.
DUEN Academy, and thereby all musical work within DUEN, build on an understanding of "the complete musician", and of what it takes to bring oneself and others in this state of mind. It is all about the balance between the different aspects of the musicianship, and this is best illustrated by the following model: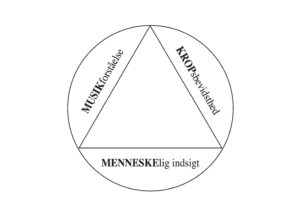 By cultivating and becoming conscious of these three aspects, and thereafter creating balance between them, surplus energy, increased well-being, freedom, and authenticity can be reached. This is clearly felt by both musicians and audiences as DUEN's signature sound, which is free of tension and full of musical flow.
If you want to know more about DUEN you can browse the rest of the webpage – among other things you can find our CD, watch a documentary movie, read about who is part of the ensemble, read about Morten Ryelund, the board and much more.